Don't start off on the wrong foot; you deserve a better software partner
Building solutions is easy, but building solutions that serve their purpose isn't. Besides business acumen and fiercely dedicated employees, what sets a successful organization apart from the rest is their technical expertise. You know the recipe for business success – create a winning plan, rope in the best in the trade, introduce proven methodologies, and pump in the funds, but for some reason, it has never worked for you, has it?
Let's do some digging
As a business heavily dependent on software solutions, you have to work with a software service provider that supplements the efforts of your in-house team. Besides being trusty, compatible, and extensively experienced, it should possess the latest infrastructure, employee the best professionals, offer a flexible pricing structure, and above all – give you a future-proof platform to scale. But here's the catch: Even with all these prerequisites fulfilled, the engagement isn't sure-fire.
Shocking revelation
As per a recent study of approximately 600 top businesses and IT executives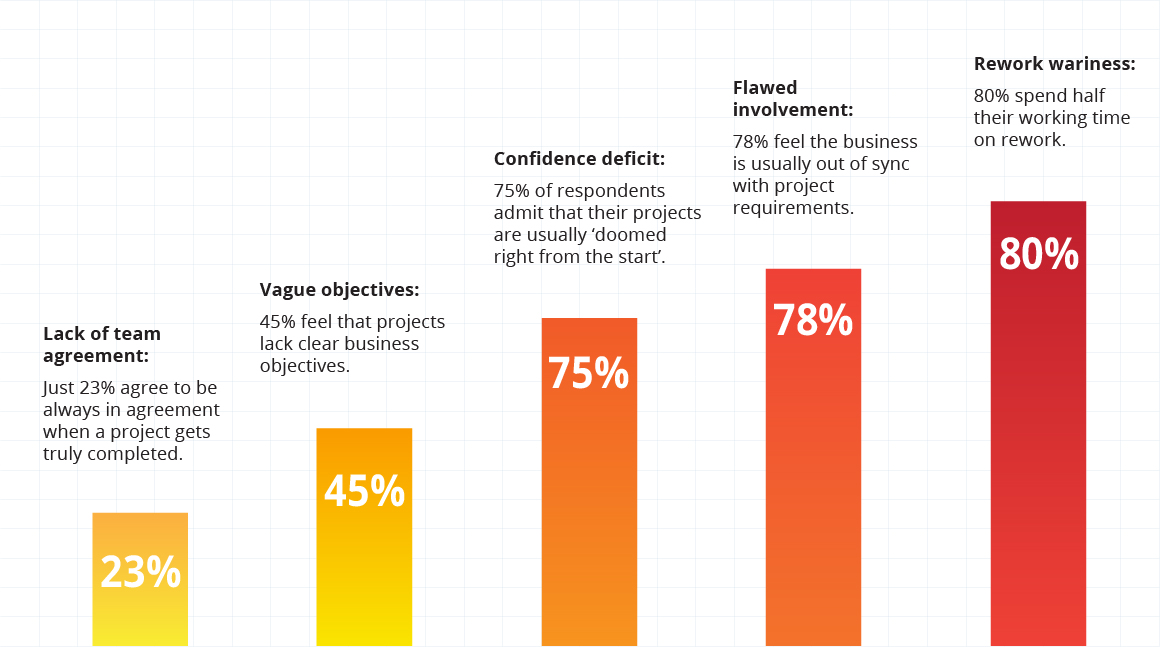 Every outsourced engagement commences with high hopes, but at times, the outcomes are remarkably different from the objectives. So what happens in between that replaces the ambitious expectations with dismaying realities and substandard outcomes, draining resources and straining relationships?
Unforeseen Costs: Cost overruns often emerge to shatter the prospects of even the most promising partnerships. To cut down on the lead time, we eliminate rework by applying standardized processes and automated deployment and testing. We help you define and prioritize new requirements and identify non-value-adding elements with value stream mapping.
Flawed Communication: About 33% of the failed projects can be attributed to poor communication among the stakeholders. Omitting key information in the project brief, fuzzy project requirements, lack of a dedicated point of contact, poor responsiveness, resistance to suggestions, and faulty communication channels deserve mention.
Ownership and Responsibility: The impact of the vendor stretches beyond the project's success and has a bearing on the client's employees, customers, reputation, finances, and more. Most vendors have angelic intentions, but their poor performance, attributable to the mismanagement, fails them. They may assume responsibility for the job but shy away from total accountability.
A few more
Roping in a firm that lacks relevant experience.
A firm with commitment/credibility challenges.
One that doesn't honor timelines, resulting in an increased TAT.
One that is understaffed, underequipped, or outdated.
Although a silver bullet is a remote possibility, a cautious, deliberate, and well-planned approach can closely resemble one. To start with, search for a vendor that possesses adequate product knowledge and aligns with your core values.
At Nalashaa, we view partnerships as journeys, not events. We address all potential pitfalls of a typical outsourced engagement model to create a delightful win-win equation with our clients.
Here's how we do it:
Risk analysis & mitigation - Technical, Quality, Performance, Costs, Schedule, and Deliverables.
Project ownership by deploying the Right Process, Right People, and Right Tools.
Ease of management through Innovation, Best practices, Lean Six Sigma methodologies.
A scheduled plan with actionable items, deliverables, timelines, and task dependencies.
Round the clock support and complete project documentation.
Here's why you can count on us
Besides clichés like cutting-edge technologies, state-of-the-art infrastructure, and skilled resources.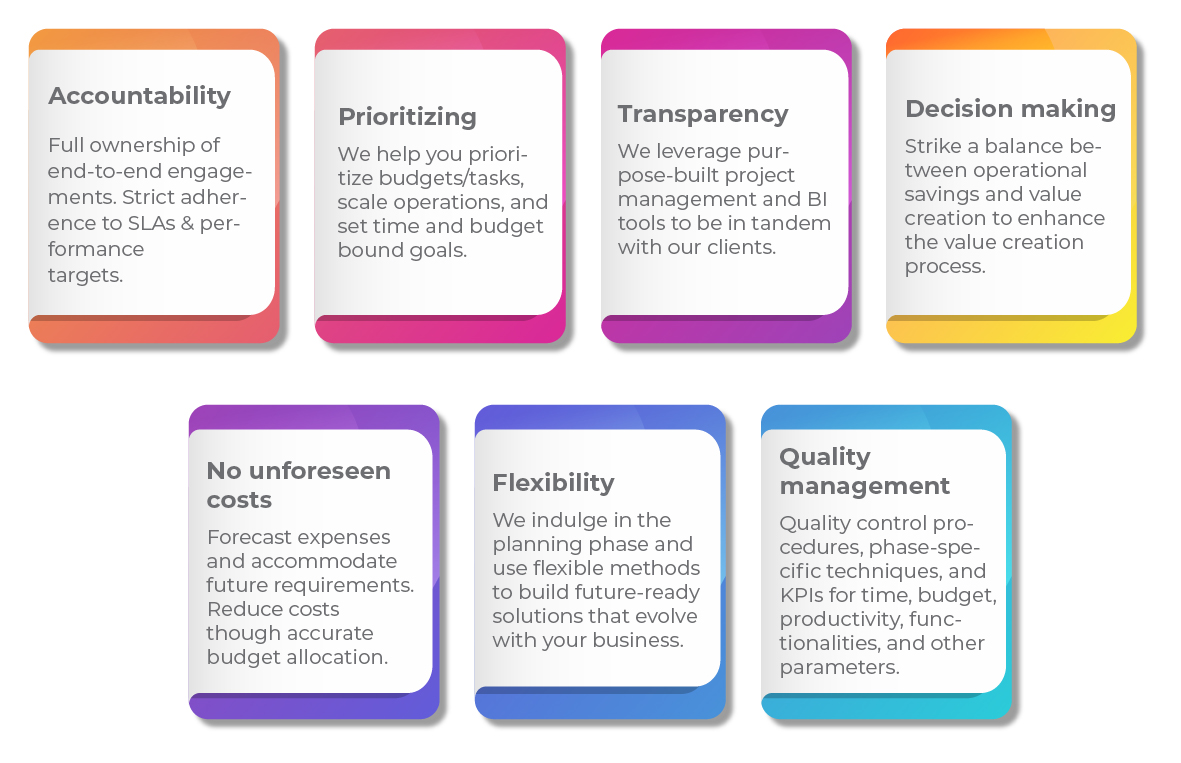 Accountability: Responsibility is bestowed; accountability must be taken. We assume full ownership of end-to-end engagements. We are committed to continuous improvement in service performance and adherence to SLAs & performance targets.
Prioritizing: We help you prioritize budgets/tasks and extend unflinching support to downscale or upscale. In the ongoing Covid-19 pandemic, our clients are benefiting massively from our contingency plans. We help you determine and realize time and budget bound business goals.
Transparency: Rather than those generic email and spreadsheets, we leverage purpose-built project management and BI tools that enable you to stay on top of developments. We are perennially in tandem with our clients to strategically plan and navigate the necessary moves at the right time, ensuring a harmonious alignment between their business and the IT strategies.
Decision making: We spell out and meet your specific requirements to enhance the value creation process. Our methodical team is concerned with what works for you the best rather than what works for them. We empower you to make the best choices and strike a balance between operational savings and value creation.
No unforeseen costs: By having us as a strategic partner, you can identify unforeseen expenses in advance and address them adequately. Change requests, feature requirements, and the like aren't overlooked. We reduce costs by laying out the scope and helping you with budget allocation.
Flexibility: The products we build will be tightly integrated with your ecosystem. By indulging in the planning phase to create a detailed roadmap, we use flexible development methods to accommodate future requirements. Thus, the solution evolves as per the business environment.
Quality management: We follow a formal quality system that delineates our plans and operations, including processes & supporting procedures to achieve the objectives. To deliver on our commitment, we use quality monitoring & control procedures along with phase-specific techniques. We define smart KPIs to measure progress against parameters such as time, budget, productivity, functionalities, and more.
Deciding on a new project partner isn't easy, but a careful analysis of the potential candidates would certainly give you a head start. Even a phone call or an email can speak volumes about the firm's ethics, expertise, and compatibility.