Dynamics 365 busts all CRM myths held by sales teams
Notwithstanding the proven benefits of using an AI-power CRM software like the Microsoft Dynamics 365, some businesses and sales head dismiss its utility straight away. Even if they are aware of its capabilities, misapprehensions surrounding its complexities and price prove to be a deterrent. The following is an attempt to debunk some of the common myths that keep salespeople from harnessing the power of a CRM (read Microsoft Dynamics 365).
Data input is inconvenient and time-consuming
Easy integration with Office 365 tools for easy entry of records
Features like Quick Entry and scanning business cards into records accelerate data entry
Automation of routine tasks
Dynamics 365
offers seamless integration with Office 365 suite to streamline processes and save time. The CRM comes with several out of the box features to make data input more efficient and easy. New contacts can be created just by scanning business cards, saving users the trouble of creating a new one every time.
Interactive dashboards and intuitive UI/UX
A unified view of data from LinkedIn, Office 365
Unified processes
Using a CRM is not any tougher than using a smartphone and doesn't demand extensive training. Data consolidation, interactive and informative dashboards, streamlining of complex processes, and introducing transparency to workflows break down sale silos to reduce complexities and raise efficiency.
Chances of data loss and leakage
Cloud storage ensures the absolute security of data
Selective access for better control
When it's a question of data storage and retrieval, on-premises systems come nowhere near cloud. Azure, Microsoft's cloud platform, offers unparalleled security intelligence to identify and block data threats. Cloud reduces the dependency on paperwork and password changes and allows the team to focus on core sale activities. Role-based and group access further secures confidential business data.
CRM is passive and offers no significant help in lead management
Embedded view of data helps identify and contact top prospects
AI insights and predictive lead scoring for better pitch
Tracking interactions with leads and prospects for quick closures
Dynamics 365 provides AI-backed actionable insights throughout the sale cycle that prove invaluable in closing deals quickly. LinkedIn Sales Navigator integration gives access to relevant contacts and prospects while intelligent recommendations and contextual guidance save valuable time. The functionalities of Power BI give a clear view of relationship health and allow for prompt actions and lead nurturing.
Unified view/ data from Outlook and Teams enhances collaboration
Ubiquitous mobile access helps monitor account status in real-time
Contacts of all decision-makers and industry influencers from LinkedIn Sales Navigator
Tailor engagements based on contextual insights
Integration with tools like Microsoft Teams and SharePoint facilitates unhindered data and document sharing. Document versioning eliminates any scope of confusion and round the clock access from mobile devices allows sale executives to constantly monitor pipeline status. Managers can create engagements for team motivation and clients based on individual needs.
It's only for the top management
Easy reporting
Tools to build sales proposals
Performance monitoring, goal setting
Reporting complexities are grossly cut down for executives by the several out-of-the-box system report templates. Proposal building, auto-quoting, and invoicing tools facilitate the creation of winning plans. Individual performance monitoring, goal setting, and data-driven insights help boost employee morale.
Business leaders should be at the forefront when it comes to embracing changes, particularly the ones that can supercharge the organization. Microsoft Dynamics 365 is one such change that helps your sales team achieve more with better attainment of quotas.
Not convinced yet? Drop your details to connect with our experts and get a free CRM consultation where they would analyze your workflows to assess the scope for Dynamics 365 for higher business yields. We have extensive experience in helping businesses implement, upgrade, and maintain their CRM software to attain higher efficiency.
Benefits of CRM in sales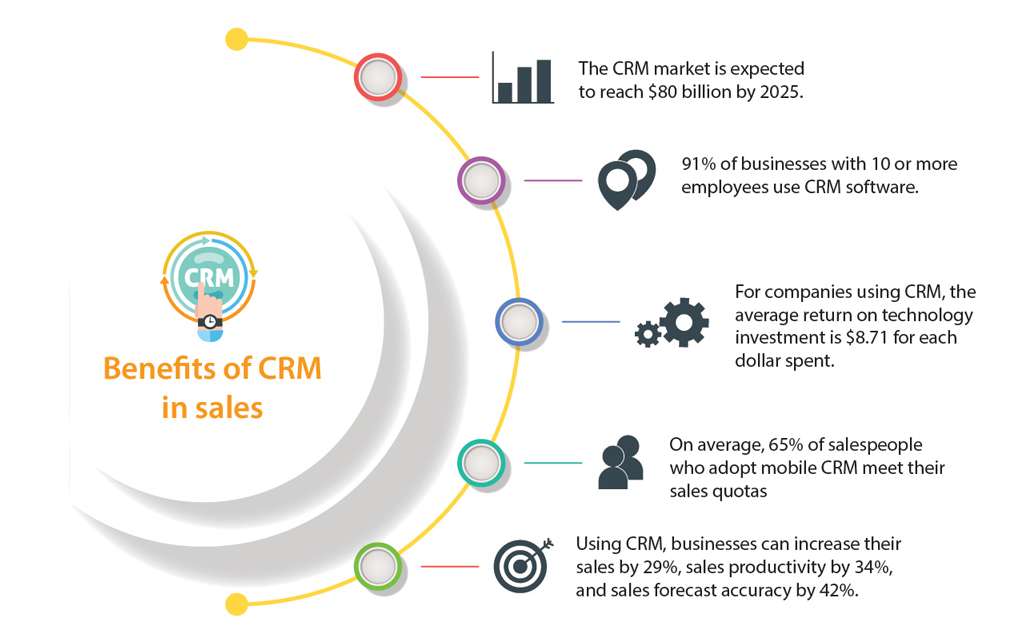 Source: agilecrm