Business Intelligence in the Cloud: Navigating the Challenges and Advantages
Business intelligence (BI) has become an essential tool for organizations to make informed decisions and stay ahead of the competition. In recent years, the trend has shifted towards cloud-based Business Intelligence services, which offer organizations the ability to access and analyze data from anywhere at any time. While there are many advantages to cloud-based BI, there are also challenges that organizations must be aware of when implementing these solutions.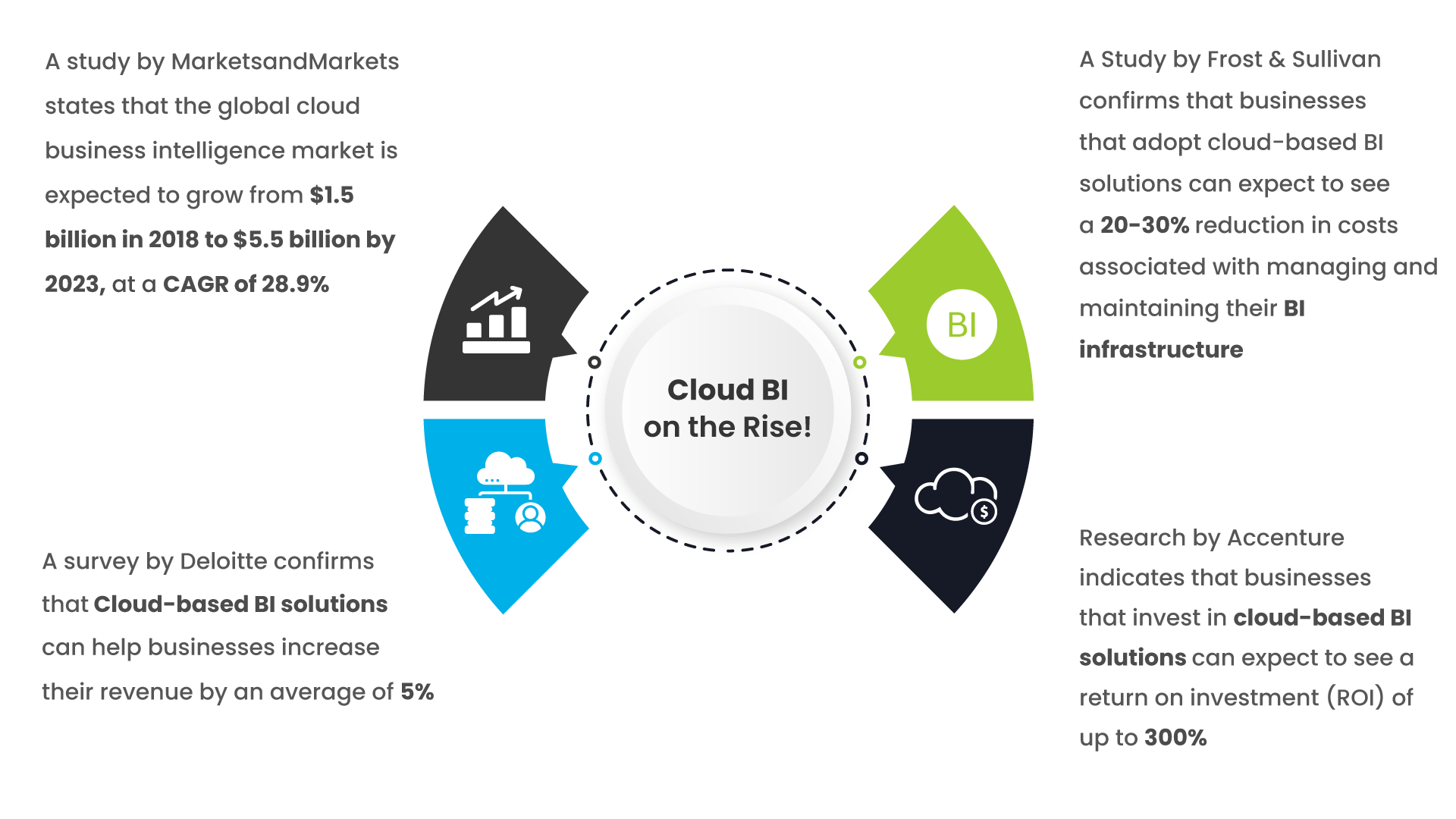 The Challenges of On-premise Business Intelligence
On-premise Business Intelligence solutions come with some challenges that can hinder organizations from maximizing their data analysis capabilities. One of them is the high cost of infrastructure and maintenance required to support the hardware and software.
In addition, limited scalability can be a major issue, as on-premise solutions are designed for a specific number of users and can become outdated quickly as business needs evolve. Moreover, there is a lack of collaboration and remote access, as the data and analysis are restricted to the physical location of the hardware.
Data privacy and security can also be a concern, as organizations are responsible for the protection of their sensitive data stored within their own infrastructure. The limited customization options of on-premise solutions can add to this and be a hindrance to organizations, as they may have specific needs that cannot be met by their current BI system.
All these factors combined make on-premise BI solutions less flexible and more difficult to manage, as compared to cloud-based BI.
Advantages of Cloud-based Business Intelligence Services
Adopting cloud-based Business Intelligence solutions is rapidly becoming a popular choice among organizations. As more and more businesses adopt the cloud, it is crucial to understand the advantages of cloud-based BI over on-premise solutions.
Reduce Costs, in More Ways Than One

Cloud-based business intelligence solutions eliminate the need for expensive hardware and software upgrades, as well as reduce IT support costs. This means that businesses can focus on their core activities, rather than having to devote resources to maintaining IT infrastructure.

Twist Effortlessly with Changing Business Requirements

With a cloud-based BI system, organizations can easily adjust the resources they need based on their changing needs, without having to make major investments in hardware and software. This makes it easier to meet changing business demands and respond to new opportunities.

Create Analyses and Form Insights – From Anywhere in the World

Businesses can leverage cloud-based BI to easily access data and insights from anywhere, anytime, and on any device. This allows organizations to make better-informed decisions and respond faster to changing business needs.

Have Your Data be Safe as Houses

Cloud service providers invest heavily in security measures to protect customer data, and many offer certifications that assure businesses that their data is secure. This means that businesses can focus on their core activities, rather than worrying about data security.

Spend No Time or Effort in Staying Up-to-date

When we say this, it means that businesses don't have to worry about managing software upgrades, as the cloud service provider takes care of these updates automatically. This helps organizations stay up-to-date with the latest technology and take advantage of new features and capabilities as they become available.
Nalashaa, Your Ideal Fit for Cloud BI solutions
As a leading provider of Business Intelligence services since 2012, Nalashaa offers a range of BI services that can be tailored to meet the unique needs of each organization. Our focus on customer satisfaction and experience across industries sets us apart from other business intelligence software service providers, and our expertise in data analysis and management makes us the ideal fit for your cloud-based BI needs. Whether you are looking for standalone solutions or packaged services, Nalashaa has the expertise to help you navigate the advantages and challenges of cloud-based BI.
Get in touch with us today at info@nalashaa.com to start your BI journey!