RPA and Profitability are Interlocked in the Logistics Arena
The supply chain and logistics industry has forever been dependent on manual processes, with automation limited to just a few areas of operations. With evolving times, keeping up with the rapid digital transformation has become a serious challenge, and the industry is desperately looking for ways to stay on top of the new advances in business processes. With growing business complexities, rising customer expectations, and plummeting margins, the only way forward for logistics businesses is Robotic Process Automation (RPA). RPA is already a massive success in other industries, including manufacturing, education, healthcare, and can deliver equally exciting advantages to the logistics businesses as well.
Pressing Challenges Rattling the Shipment Landscape
Lack of visibility across entities in the supply chain.
Obsolete technology leading to a multitude of operational problems.
Growing customer demands that are difficult to meet.
Poor workforce productivity, leading to high opex.
RPA into the Rescue of Logistics Businesses: Use Cases
Shipment Scheduling and Tracking
Although carriers may use a web portal to provide customers with inventory and shipping data, the lack of integration of the portal with the transportation management systems remains the pain point. This necessitates manual rekeying of data into systems, which is a tedious process and involves high chances of errors.
Considering the fact that RPA is a new concept for most logistics firms, it is advisable to start the automation journey with relatively simpler and high-volume processes that are also rule-based and involve low exceptions. Hence, shipment pick-up requests, shipment status monitoring, delivery notifications, and the like stand as ideal candidates for RPA.
Bots can facilitate auto-sync of shipment data like pick-up, reload, and delivery status between portals and other applications. Bots can log in to portals, identify the required information, change it to the required format, and copy it to other systems as configured.
For shipment return cases, bots receive the request, notify the logistics team, and send an acknowledgment to the requestor about the same. For approved requests, bots access the order history, extract the details, and update those in the pickup scheduling system.
RPA shares pickup details with the driver of the delivery vehicle. Status about successful pickups, delays, and failures are shared with both the logistics team and the requestor.
Accurate provision of pick-up times in customer and carrier portals leads to enhanced customer satisfaction.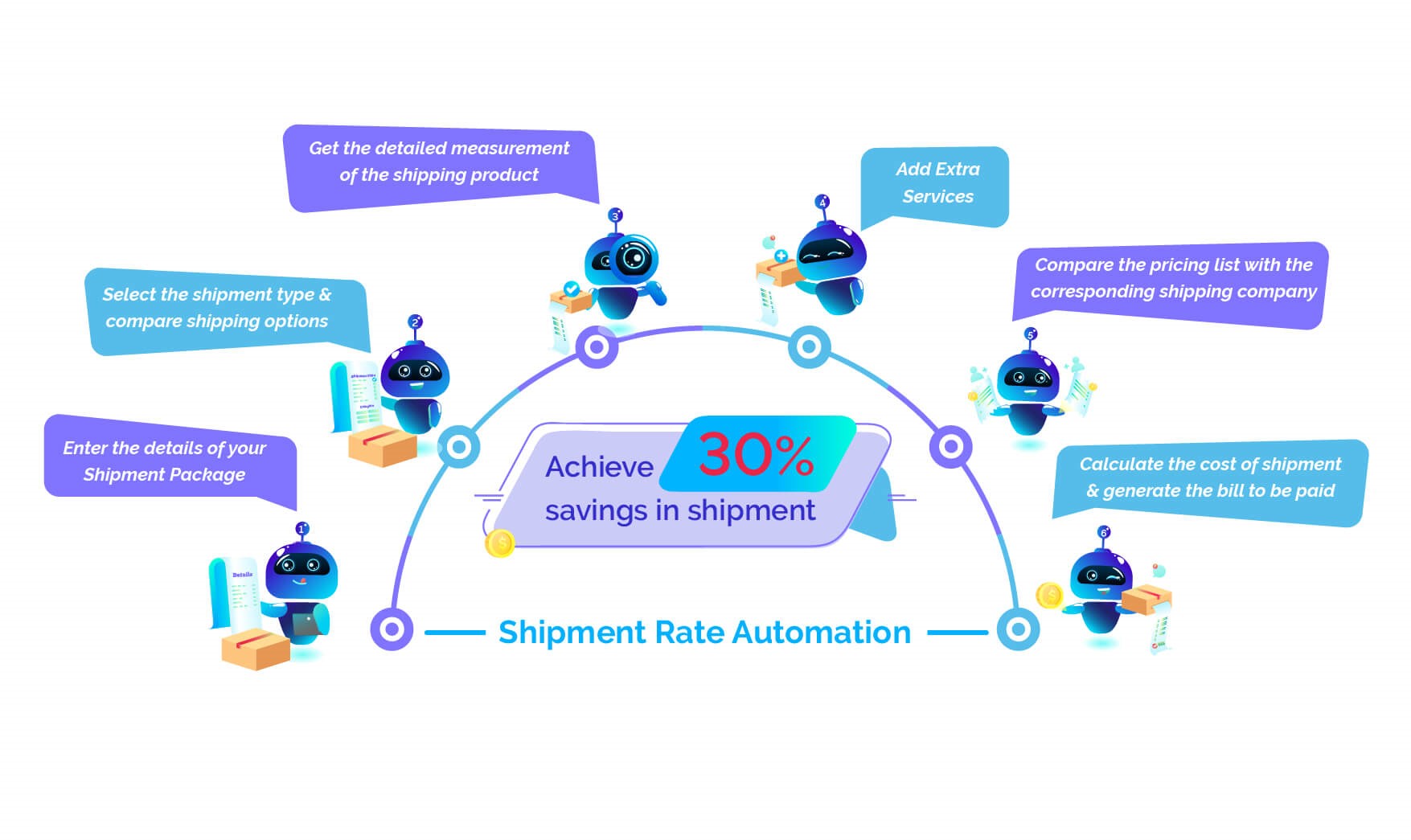 Invoicing and Credit Collections
Third-party carriers have to access multiple freight portals to reconcile invoices. The executives have to look at invoices, identify relevant data, and feed it to the relevant system to complete payments and system records. For invoice irregularities, the team has to contact the supplier or the ordering team to resolve the issues, which delays the payment.
Implementing RPA can help make the invoice process efficient and streamlined by minimizing the need for human intervention and cutting down on the required time.
Bots can extract shipping data and attach scanned PODs, invoices, etc., to facilitate real-time updates in customer portals.
RPA can be used for end-to-end automation of the order-to-cash process for third-party logistics carriers.
RPA also automates invoice reconciliations, cost center updates, manual journal entries, and regulatory and financial report generation.
Better accounts management with expedited and accurate invoicing, auto-update of payment portals.
Order Processing and Inventory Monitoring
Order processing involves heaps of data entry tasks and paperwork, making it resource-hungry. Moreover, the repetitive tasks are highly error-prone, resulting in inefficiencies and revenue loss. Another crucial aspect of the logistics and supply chain ecosystem is inventory management, which, too, is dominated by manual processes.
RPA can be used for receiving and processing orders to inject efficiency into the workflow. Automation can also help monitor inventory levels in real-time, eliminating the chances of order delays and cancellations.
RPA has the ability to reconcile inventory stocks by fetching information from the customer's portal or the ERP System and cross-verify it with the Inventory Management software data.
For auto-inventory control, bots keep track of the stock level in the warehouse and intimate the stakeholders in the case of overstocks or understocks.
Whenever an order is received in the ERP, bots log into the system, identifies the order by its number, downloads the details, and sends it to the order fulfillment team. Bots can share updated stock data pertaining to orders and also the approximate wait time if the item is not ready for shipping.
An efficient supply chain process helps realize efficient warehouse operations, including import and export procedures.
Route Optimization and Fleet Maintenance
Despite sincere attempts by carriers to optimize their route planning, there still exists multiple discrepancies in the outcomes that the planners produce. This causes delayed deliveries, unhappy customers, and high transportation costs. Logistics companies are constantly worried about inconveniences stemming from the unavailability of vehicles or drivers to meet the short notice requirements of customers.
RPA can be used to cut short the overall route planning cycle and reduce the required planning resource. Bots can streamline the planning process to reduce planning latency, making logistics operations more responsive and agile. RPA integrated with GPS software can be used to track the exact location of vehicles, thus enabling precise estimation of delivery time.
RPA can be used to establish centralized route planning to enhance transportation productivity. Drivers and delivery managers get the details of the routes well in advance.
Bots can be used to find the shortest route possible with minimal effort, informing drivers about sudden traffic congestions to enable faster deliveries.
Using RPA, the maintenance schedule of delivery vehicles can be automated. Bots can send timely alerts to drivers and fleet managers about the service due date, and can even book service slots.
Optimized route plans help reduce associated costs, utilize resources better, and deliver the best customer service.
Why Count On Nalashaa's RPA expertise?
At Nalashaa, we have the right mix of RPA and logistics experts who work in tandem to plan and execute the digital transformation of our logistics clients. Over the years, we have crafted a unique technology framework that enables us to streamline even the most complex supply chains to turn them profitable while cutting down on human involvement. Connect with us for a quick chat on how we can turn around things for your business.