RPA in Warehouse Management
In today's world, technology has been improved to a great extent, where many industries demand to be abreast with technology and its far reaching capabilities. A deep dive into warehouse management will show various processes, including sorting, packing, picking, storage, shipping, transportation, retrieval, etc., and in present day, all these processes are done by humans. To free up manpower and speed up processes, we have seen a recent shift towards Robotic Process Automation or RPA, which plays a vital role in improving the business processes within the organization. In addition to cost and efficiency advantages, RPA can catapult a business to the next level in terms of productivity and optimization.
This latest technology ensures that the tasks which are done manually can be automated using Robotic Warehouse Systems, which ensures a smooth transition from product order to fulfillment and delivery to the customer. This does not mean that human expertise would not be needed, but it would be significantly reduced by automated warehouse solutions.
Warehouse Automation by RPA BoTs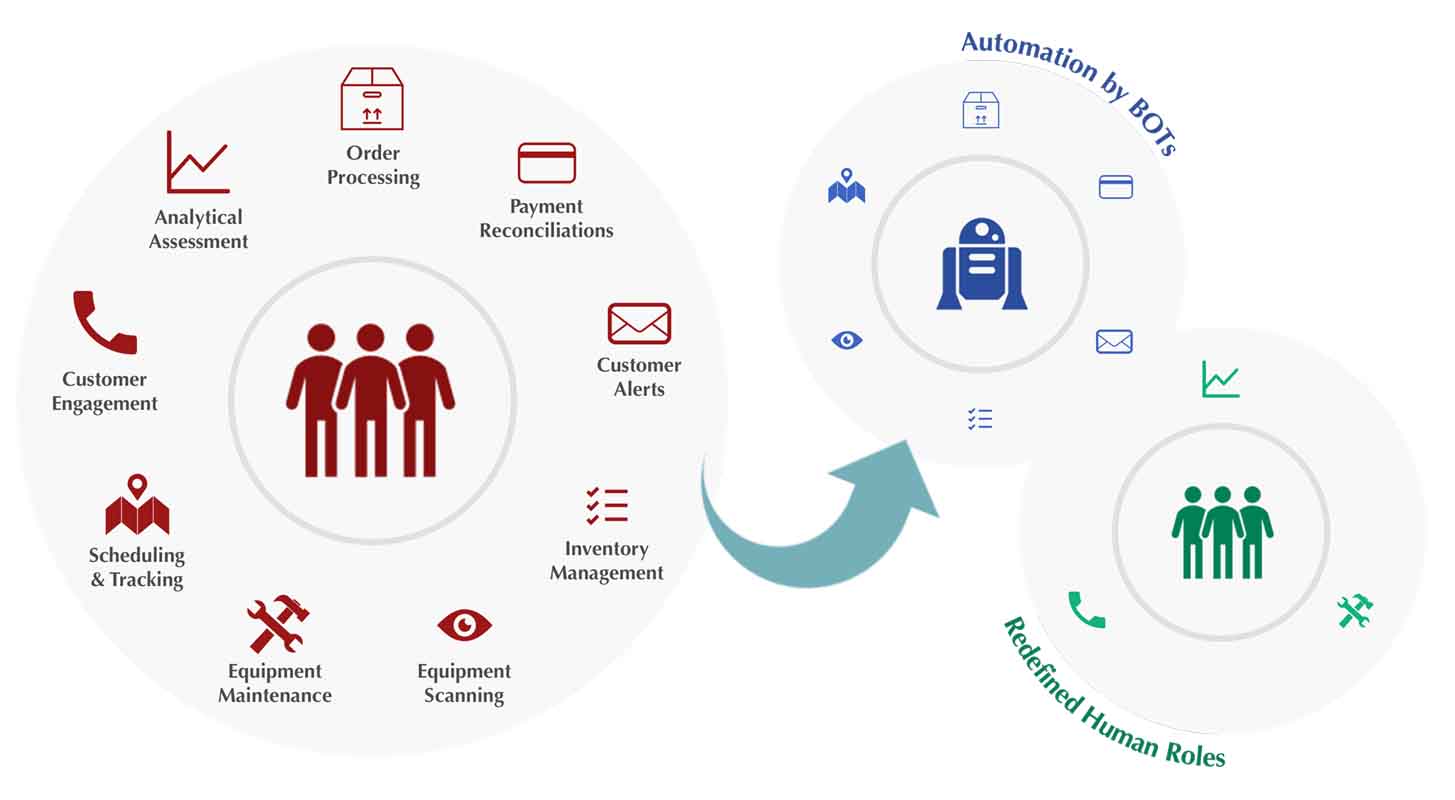 Why implement RPA for warehouse processes?
Reduce Labour costs – Use BoTs for transactional tasks and optimize employee time
Reduce Turnaround Time – Speed up fulfilment process
Quality Improvement – No errors and redo for any process, saving even more time
Each process workflow is different and at times might vary slightly across warehouse management systems. A customized approach is required to integrate all the different processes and automate them End-to-End through RPA. One of the essential needs for the success of a RPA system is adherence to exact processes without any deviation. RPA might be a new concept in warehouse management, but its development is expected to be much more mainstream in a span of few years. In order to know the benefits of RPA in warehouse management, let's first consider as to where RPA can be implemented in warehouse management.
Areas for RPA implementation in Warehouse Management
Automation of order processing and payments
Automation of email or SMS alerts
Automation in communication between the customers
Automation of procurement and inventory management processes
Generation of service reminders on warehouse equipment using Automation
Generation of service and road tax reminders using Automation
Automating shipment scheduling and tracking with RPA
Automation in Finance
Now, we look a little deeper into two areas from above and how RPA BoTs change the current scheme of things.
Order Processing and Payments
When a customer selects a product and orders it through any online channel, they receive order, shipping details and updates electronically. But behind the scenes, many warehouse companies still depend on manual labour and paper or excel documents to execute these transactions and maintain records. This also includes manually entering the customer's information on the company database. Automating back office tasks through RPA BoTs, can reduce manual human work and increase efficiency. BoTs can also update regarding shipment delays or if the order needs to be cancelled due to any reason. So, they can handle all aspects of order processing.
Customer Communication
An open communication channel between the customer and the company is crucial to create trust, and this communication spontaneously can be done through RPA within seconds. Cognitive BoTs can take care of typical order related queries and update customers by querying the system for relevant information. The BoT can be programmed to send premeditated responses which will serve the company needs based on query results.
Conclusion
Implementation of RPA in warehouse automation would see changes in technology requirement and upgradation in many systems and processes. The key aspects are clarity of objective and understanding the benefits which is expected from an RPA implementation.
Looking to understand RPA better?
Nuts and Bolts of RPA and how Image Recognition is the core of how an RPA BoT functions.